CorporateConnections®エッジ
多くの人がビジネスチャンスを得るためにCorporateConnections®へ参加しています。 また継続する理由としては、有意義な人間関係、集団的経験の共有、そして仲間から得られる知識が最も多く挙げられています。
メンバーシップの概要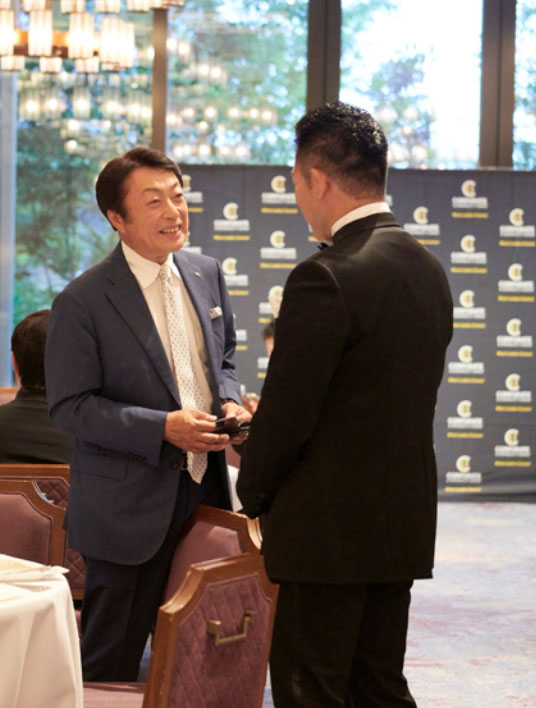 Our 90-minute meeting agenda provides a platform to invite qualified guests for the benefit of other Members, ensuring time and energy is invested towards creating and accelerating opportunities on an ongoing basis.
With access to global thought leaders, our Members benefit from best practices and trends shaping business through intimate sessions with influencers from around the world.
The CorporateConnections Global Convention is the opportunity to meet the world and is the ultimate celebration of our community. With international speakers, access to world-class leaders and once-in-a-lifetime moments, this is the culmination of a year of opportunities, relationships and meaningful change and is truly Where Leaders Connect.
Taking our Members out of the boardroom and giving them access to premier venues and events accelerates trust and connection through shared extraordinary experiences.
The CorporateConnections Forum provides a confidential environment in which Members leverage the shared experiences of their peers to gain clarity and make better decisions faster.
メンバーシップ要件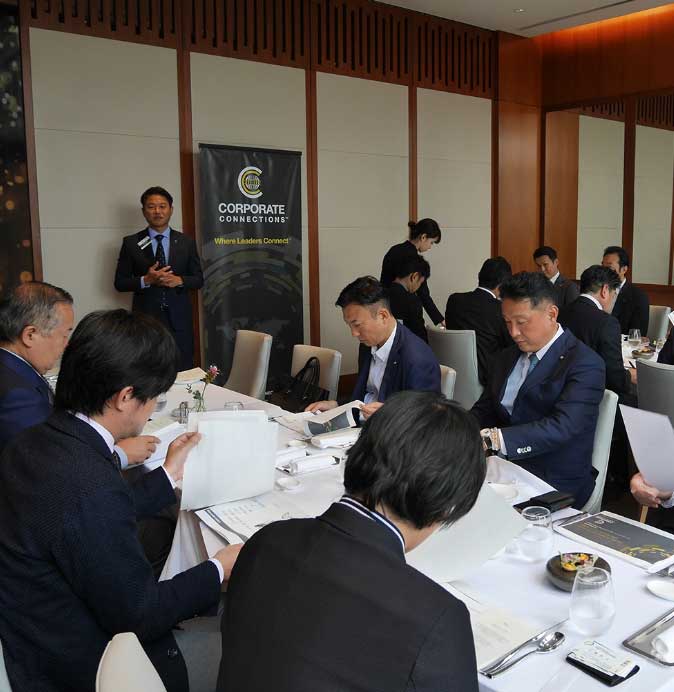 CorporateConnections®メンバーシップ要件と要望
500万米ドル(5億円)以上のGAAP(米国会計基準)収益を上げている組織のビジネスオーナー、パートナー、またはC-レベルエグゼクティブ。
CorporateConnections®は、メンバーがビジネスを行う上で指針となる強力なコアバリューに基づいて組織されています。 これにより、成長と変革を促進する独自のコミュニティが生まれます。
メンバーシップの申し込みプロセス
メンバー候補者は、信頼できる戦略的関係において、相互に利益をもたらすことができる存在でなければなりません。 そのためCorporateConnections®では、確立されたプロセスに基づいて客観的に選考を行い、メンバーを決定します。
CorporateConnections®のメンバーになるための3つのステップ:
申込者はCorporateConnections®のチャプターより、最低でも後援者を1人以上指定し、入会申込書を提出します。
申込者がメンバーとして相応しいと認められた場合、チャプターより面接の候補日をご連絡します。
面接が終了すると、チャプター内での内部評価が行われます。
承認されると、入会の許可とスタートプログラムのスケジュールが通知されます。
新メンバーはメンバーチェアおよびチャプターチェアより入会説明を受け、CCスタートプログラムを開始します。